THE MOST ENERGY EFFICIENT EMERGENCY LIGHTING ON THE MARKET
The lack or failure of lighting in emergency situations can lead to dangerous situations.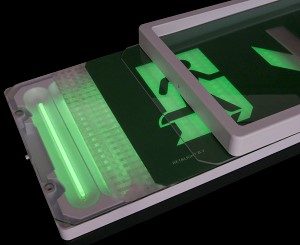 Fire, smoke and / or panic can cause people to become disoriented and, as a result, cannot find the (emergency) exit. It is therefore essential that there is always a clear and recognizable escape route.
The products we supply make an important contribution in emergency situations. Indeed, escape routes, emergency exits, rescue and firefighting equipment become identifiable through Betalux Tritium escape route signs and luminous signage. So that rapid action can be taken in emergencies and dangerous situations are minimized. In addition, the emergency
lighting the most energy-efficient emergency lighting on the market. Some of the important features of emergency lights are; they do not consume electricity, are maintenance free, have a very long life and are ±67% cheaper than electronic emergency lights. The dimensions of a luminaire are
210 x 325 mm and only 25 mm thick. Another big advantage is that the icons of the
emergency lighting can be changed very easily and that assembly takes only a few minutes.
This form of escape route signaling has been used for more than 50 years as escape route signaling in aircraft, where reliability is paramount. The application of these luminaires is the use as permanently illuminated escape route indication, without the need for separate emergency power supply or ambient light. Due to the lack of electrical components, they can be used in damp areas or close to sprinkler systems. But also in tunnels and along motorways, if necessary under water.
To keep
To keep
To keep
To keep
COMPLETELY MAINTENANCE FREE
Due to the lack of electrical components, replacement of batteries and lamps is not necessary.
NO ENERGY COSTS
Because the emergency lighting uses no energy, you save considerably on your electricity consumption.
LONG LIFESPAN
The emergency lighting is on continuously for a lifespan of 15 years.
COST SAVING
Because they do not use electricity and are maintenance-free, they are much more economical than electronic emergency lighting during their lifetime.
THE BETALUX EMERGENCY LIGHTING IS VERSATILE, ROBUST, DURABLE AND VERY RELIABLE
WHY CHOOSE TRITIUM AND NO LED OR TL LIGHTING?
Fluorescent light sources, also known as 6 watt fluorescent tubes, still dominate the escape sign market. Our Tritium escape route
indications do not use LED or fluorescent lighting. It is an ionizing gas that causes the light source to emit light. The Tritium escape route signs do not need to be connected to the mains and therefore consumes no energy at all. In addition, there are no lights that need to be replaced in the future.
The annual inspection of this Tritium emergency lighting will still have to be done, but you will be done faster time and time again as there are no lamps to be checked and / or replaced.
An emergency exit with Tritium lighting is more expensive to purchase, only because the operating costs are not present, it will be recouped within about a year and a half. Would you like more information about Tritium emergency lighting? Please feel free Contact with us.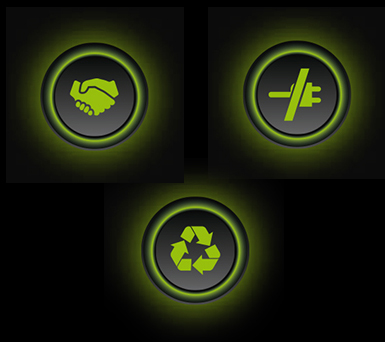 OVERVIEW OF COSTS
IN 15 YEARS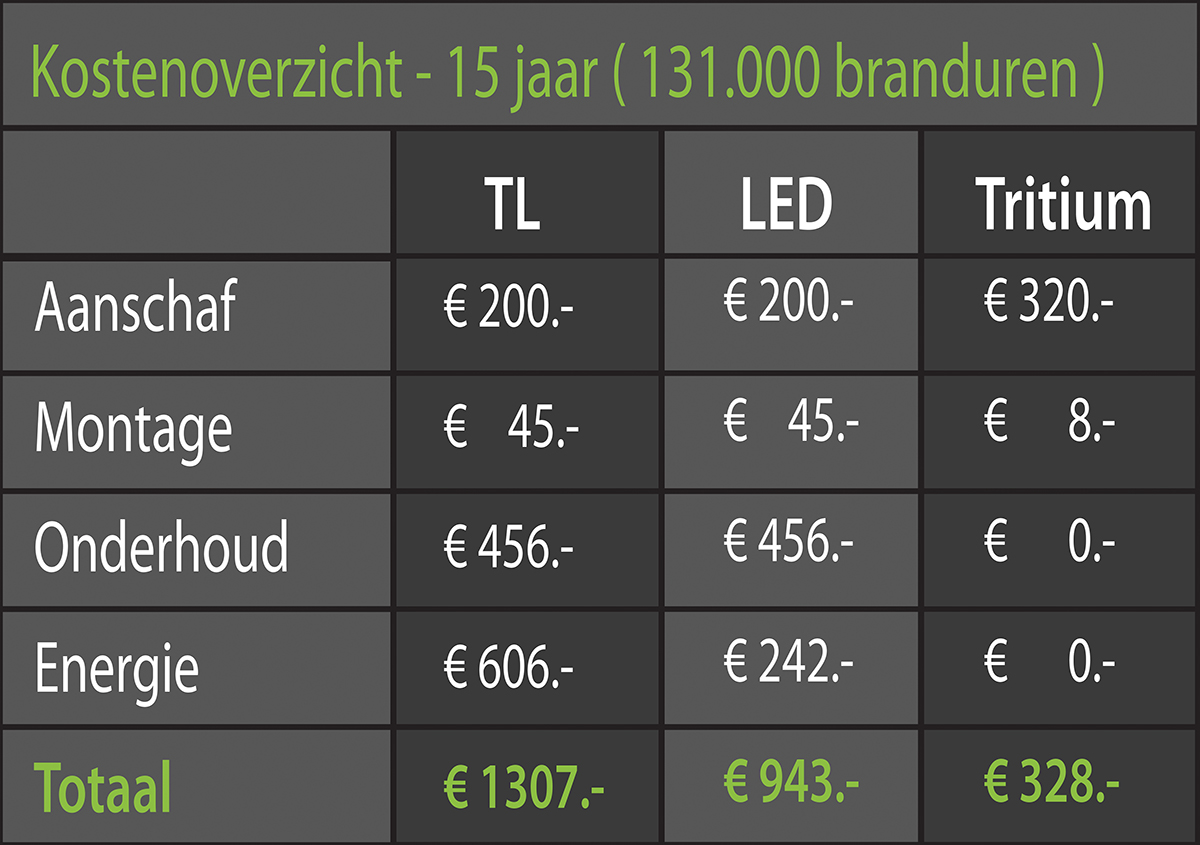 You can here view the comprehensive overview.
DIFFERENCES BETWEEN LED, TL AND TRITIUM EMERGENCY LIGHTING
The lighting industry has undergone a major metamorphosis over the past 10 years. LED technology has rapidly occupied a prominent place in the emergency lighting industry. For example, it appears that about half of the emergency lighting now has the energy-efficient light source.
The emergency lighting with LED is often on 24 hours a day and quickly leads to significant savings in energy costs. Because fluorescent lighting consumes much more as a light source for emergency lighting than LED, nowadays LED is more often chosen. In addition, it is a great advantage that minimal maintenance is required. Installers do not have to replace the LED light source as standard during the annual inspection.
The light source of the Tritium emergency lighting, in contrast to LED and TL lighting, does not consume any energy at all. The most economical and sustainable solution for emergency lighting is Tritium.
EMERGENCY LIGHTING CAN BE DIVIDED INTO 3 LUMINAIRES. WE HAVE COMPOSED AN OVERVIEW FOR THIS
ESCAPE LIGHTING
Escape route lighting ensures that escape routes remain visible and recognized from different angles. In case of calamities, obstacles can be recognized and the escape route can be used safely.
The most commonly used types are,
– Existing fluorescent fixtures that are supplied with power by a central emergency power supply.
– Lighting units with one or two fluorescent lamps and a built-in battery that are placed separately in the ceiling.
FLIGHT ROUTE INDICATION
Escape route indications ensure a consistent and recognizable flight
route indications, so that people present can follow the shortest possible escape route in the event of an emergency.
The most commonly used types are; stickers that not light up, stickers that well light up, Betalux escape route-
indications, emergency lighting LED fixtures, fluorescent fixtures.
Compared to electric flight
route indications are the flight
road signs that emit light by means of tritium for purchase and use, by far the cheapest solution over a period of 15 years.
COMBINATION OF LUMINAIRES
The emergency lighting LED luminaires provide both the escape route lighting and the escape route indication. In the corridors, these luminaires are often referred to as "transparencies".
The most commonly used types are: Fluorescent escape route lighting fixtures with a green pictogram.
You can do it here emergency lighting schedule see.
WHAT EUROPEAN GUIDELINES, COLORS AND ICONS APPLY TO ESCAPE MARKINGS?
THE EUROPEAN DIRECTIVES
The European Directive 92/58 / EEC aims to harmonize regulations in the field of safety and health.
signaling. In the 92/58 / EEC relating to flight
road signs state that "The signs have such dimensions and color and light technical properties that they are clearly visible and easy to understand." It also states that "in poor natural lighting conditions, fluorescent colors, reflective materials or artificial light should be used." It is good to take into account European directives and legislation.
Lighting Solutions' escape route signs meet many national and international standards such as ANSI N540, NFPA Life Safety Code 101, Directive 92/58 EEC, BS-5499 part 2, NEN-EN 1838, NEN 6088 and NEN-EN-ISO 7010. The escape routes are also
designations UL certified and registered. In addition, they have been approved by US-NRC and the Dutch Ministry of Housing, Spatial Planning and the Environment.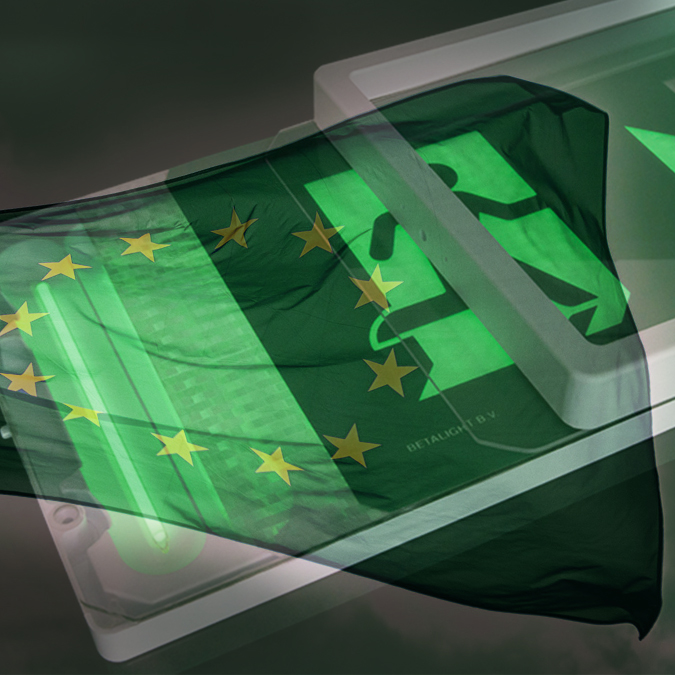 THE COLOR
The safety colors should be determined under daylight conditions. Lighting Solutions' escape route signs comply with the safety colors. It also expressly states that: "If the escape route indications are combined with emergency lighting (read: escape route lighting), the emergency lighting must comply with NEN-EN 1838. This therefore applies to the aforementioned combination of luminaires.
However, Lighting Solutions luminaires are exclusively intended for escape route signage and are not combined with escape route lighting. For example, NEN-EN 1838 does not apply to the luminaires of Lighting Solutions. Our escape route
indications are clearly visible with and without daylight.
THE ICON
Previously, the properties and determination method with which escape route markings had to comply were laid down in the NEN 6088 standard. This standard was withdrawn in January 2013. The standard then merged with the NEN 3011 standard. For the prevention of un-
cases, firefighting, health hazard information and emergency evacuation, this standard provides
notebooks. Since January 2013, ISO 7010 has been in force in Europe as EN-ISO 7010 (Graphics symbols – Safety colors and Safety signs – Registered safety signs). In Dutch this has been introduced as NEN-EN-ISO 7010.