LUMINOUS ALUMINUM STAIR PROFILES
The luminous aluminum stair profiles increase safety in any building. During evacuation in the event of a power failure and / or smoke development in a building, the steps remain clearly visible. In addition to the fact that the luminous stair profiles contribute to safety in a building, they also protect the stairs against wear on the stair edges.
Artificial and daylight ensure that the luminous stair profiles can recharge and emit light in the dark for 8 to 12 hours, so that the stairs are clearly visible in the dark. No battery, battery or power is required for this. The photoluminescent (afterglowing) aluminum stair profiles are made of solid aluminum with a non-slip layer and are provided with a high-quality luminescent joint.
Nowadays it almost goes without saying that the luminescent aluminum stair profiles are used in public areas of companies and institutions to provide optimum safety.
In addition, the luminous stair profiles can be combined very well with the photoluminescent tape so that a safe route can always be followed to the exit if there is an emergency.

To keep
To keep
To keep
To keep
To keep
Important features of the luminous aluminum stair profiles
Equipped with anti-slip layer
High-quality luminescent material (300 mcd.)
Easy installation with mounting kit and / or screws
Available in different colors
No power, rechargeable batteries or batteries required
Fast shots of light (5-10 minutes)
Long after annealing time (8-12 hours)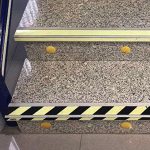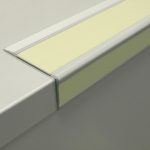 To keep
To keep