SPECIFICATIONS
This form of emergency lighting has been used in aircraft for more than 50 years, where reliability is paramount. The application of the products is the use as permanently illuminated escape route signage, without the need for separate emergency power supply or ambient light. Due to the lack of electrical components, they can be used in damp rooms or close to sprinkler systems, for example in tunnels or cold stores. The Betalux emergency lighting can even be used under water!
In addition to the Betalux emergency lighting, we also produce offshore & marine safety signage. These signs are specially designed for continuous use in hazardous and unpredictable environments and adverse conditions.
We also produce signs specially developed for aircraft. Where safety and reliability always come first. The use of these luminaires provides significant weight savings because they do not use cables or batteries.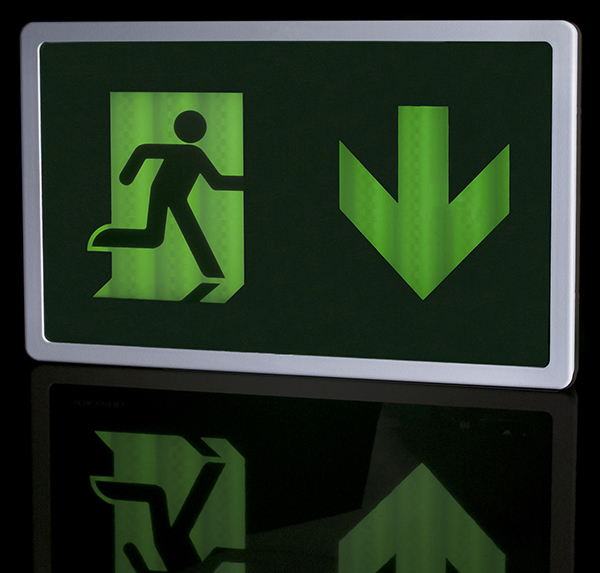 MOST IMPORTANT FEATURES
Absolute reliability
Maintenance free and no energy costs
Fast and easy installation
No electrical power, batteries, accumulators, lamps or wiring required
Withstands temperatures from -60 ° C to + 80 ° C
Water and vibration resistant
APPLICATIONS
New construction or existing construction
Heritage, cultural buildings and monumental buildings
Specialized buildings for performing arts (light pollution)
Hazardous atmospheres, locations where electricity is undesirable
Offshore and underground construction projects
Humid spaces such as cold stores or tunnels
APPEARANCE
Height: 210 mm
Width: 325 mm
Depth: 25 mm
Weight: 800 gram
The housing is made of ABS (strong, impact resistant and fire resistant)
Icons are easy to change.
OPTIONAL
Pendulum (30 CM)
Separate icons
Betaguard: Impact-resistant protective cover for Betalux escape route signs.
Manufactured from PETG viralite 200, for applications in sports halls, for example.
The light transmission is> 90%.
MAINTENANCE
Depending on the environment, you should wipe the Betalux emergency lighting with a damp cloth. There is a sticker on the front of the fixture stating the year the fixture must be replaced. After 15 years, the light output is below the standard and the escape route indication must be replaced. Please feel free Contact us if you have any questions.