PHOTOLUMINESCENT (AFTERLIGHTING / GLOW IN THE DARK) DIRECTIONS
In the event of an emergency, for example in the event of fire, smoke development or sudden power failure, a clearly visible and recognizable escape route must be visible at all times. If this is not the case, panic quickly ensues because people cannot find the right way to the exit. This can lead to dangerous situations. Good orientation during an emergency is vital and can minimize the number of casualties.
With photoluminescent, afterglowing or glow in the dark signage you can realize the best and clearest possible escape route in any building. This can be done through self-luminous tape for on floors, possibly in combination with glow in the dark floor arrows and / or legends as indication of the flight direction. In addition, obstacles, such as stairs and doors, can also be made visible.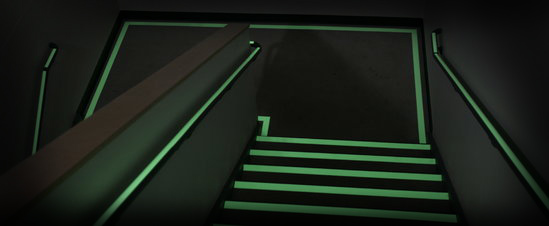 To keep
To keep
To keep
To keep
What is Photoluminescence?
Photoluminescence is a special kind of phosphorescence, also called "glow in the dark". This is activated by existing light sources, such as daylight and various types of artificial light. More information about the light intensity, click here.
Photoluminescent (glow in the dark) products absorb and store the ambient light and then release the energy in the form of light when the room is darkened. This process can be repeated for a very long time and is therefore perfectly suitable for indicating steps, flight routes and exits. In daylight the tape or marking is white in color, but in the dark this glow in the dark lights up green. For more information see.
What is ambient light?
Ambient light is the normal light you have in a building or office space when the lighting is on, for example fluorescent tubes. But daylight from outside is also ambient light. This light is absorbed by the Photoluminescent material.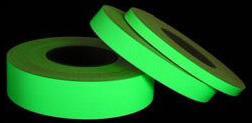 Photoluminescent floor markings
This glow in the dark floor marking is a round marking with a diameter of 10 or 13 cm. It is provided with an overriding arrow that leads you to a safe exit. The top layer of this marking is made of polycarbonate and is finished with a strong anti-slip layer. Do you want more information about this product?
Photoluminescent floor plans
Floor plans made of photoluminescent or glow in the dark material. These are maps of, for example, buildings or train wagons, which very clearly show the correct escape route to a safe exit in the darkness. With a "normal" floor plan on white material this is absolutely impossible, which can lead to dangerous situations.
Most important features
Highly visible, immediately after power failure
100% reliable
No electricity, no wires or batteries, zero energy costs
Very easy installation
Maintenance free for more than 10 years
High-level applications and low-level applications
Can be used in new construction and existing construction
Non-slip, strong and sturdy
Edit
All products, including the tape, floor and step markings, can be used in many areas without major structural modifications. The products are also eco-friendly and sustainable.
Applications
Care centers, hospitals
Stairwells
Public buildings
Parking garages
Warehouses
Stations
stadiums
Ships, platforms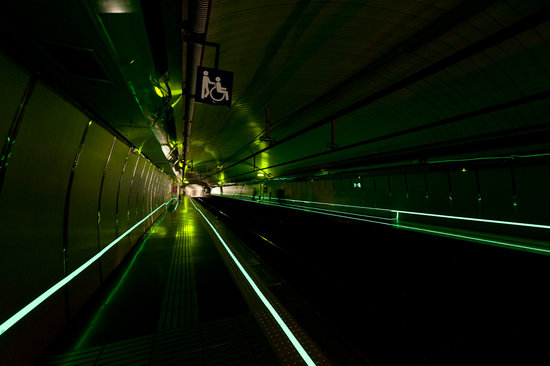 To keep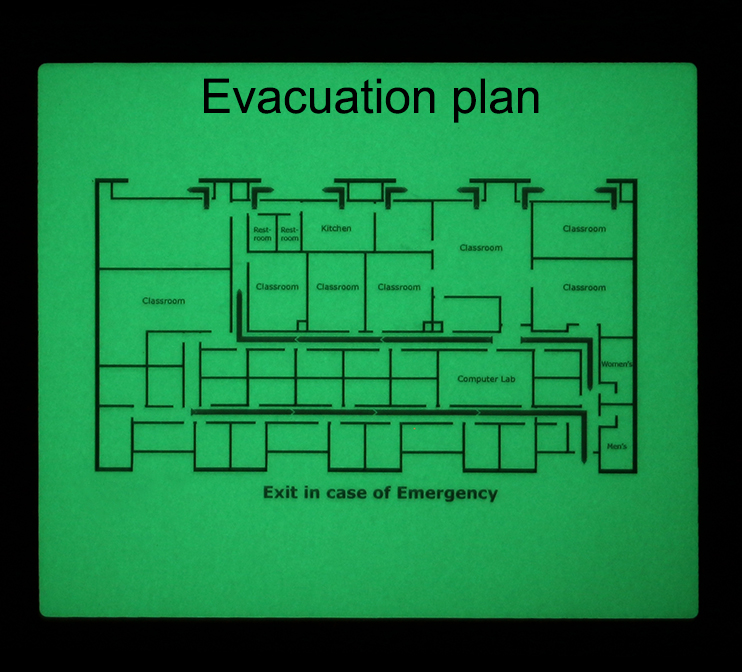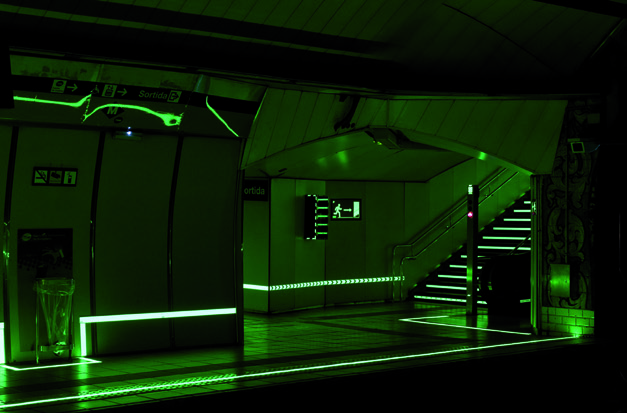 Customized technical drawings
In collaboration with "Mooij Engineering" we deliver customized technical drawings. Technical drawings can be used for multiple purposes. First of all, an architectural drawing serves of course to visualize "what" and "where" should be placed. In addition, the architectural drawings are also used as a working drawing so that all materials are placed in the correct place. Finally, communication errors are minimized with technical drawings and associated specifications.